BOOK an event!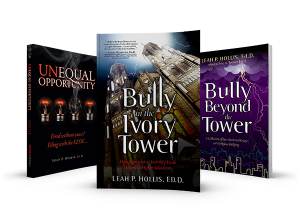 Dr. Leah Hollis is a leading expert on Workplace Bullying and Diversity.  We  can help you maintain a healthy and accessible workplace.   Interested in a keynote speech or consulting visit? Please give us the number of people and hours.  On a tight budget?   Make a reasonable offer for Patricia Berkly LLC to consider. 
How can we help you?  Chat with us at no obligation to learn how we can meet your workplace bullying, diversity training and EEO education needs. Click here to send us an email! 

Would like more information?
Email: equity1@patriciaberkly.com
Phone: 610-990-6588
Leah Hollis is a regular contributor to JENNINGS WIRE.
CHECK OUT OUR SPEAKING AND TRAINING ACTIVITIES
Lawyer Up! Settle Down, Managerial Strategies to avoid discrimination law suits – 25th Annual National Conference on Race and Ethnicity New York New York
Intersection of Bullying and Harassment. 10th National Meeting American  Association of Affirmative Action, Washington DC
Nik Beat's HOWL Radio interview on workplace bullying, Toronto Canada  
EEOC Updates On protected class,   Madison Security, New York
RESPECT in the workplace, New York
Diversity in Team Values,  Defense Contractors, Arizona
Changing Agents: Diversity & Innovation, Harlem Times Virtual Lecture Series
Cornell University Police Department
Fashion Institute of Technology
Catholic Health Net
Georgia Tech
Bowling Green
Longwood University
University of Virginia
American Council on Education (ACE)

Patricia Berkly LLC is happy to answer initial questions about services and training opportunity.
Patricia Berkly, LLC.

Diversity Training Consultants
Workplace bullying / Workshops/ Training/ Keynote Speeches
2207 Concord Pike • Suite 238
Wilmington, DE 19803
PH: 610-990-6588
Thank you for your interest.