Award Winning Consultant & Social Justice Educator
Leah P. Hollis/ Patricia Berkly LLC Awards
Our founder has humbly been honored over the years for her commitment and excellence in research, service, teaching, and civic activities. Check out her accolades which reflect her empathy and expertise about social justice.
---
2022 Alumni Award: Lucy Wheelock Award: Leah P. Hollis (Wheelock'- Boston University '98)
Dr. Leah P. Hollis, a Boston University Martin Luther King Jr Fellow for Social Justice, has been awarded the Lucy Wheelock Alumni Award for 2022. Specifically, the Boston University/Wheelock alumni network honors Hollis for "championing causes such as workplace bullying, discrimination, pay inequity, and gender bias." Many of her colleagues comment that Hollis' advocacy inspired the historic 9% raise for faculty and the introduction of more substantial pay bumps as the point of tenure and promotion. Boston University Professor and Dean Emeritus Dr. Hardin Coleman stated, "it is impressive the way in which Dr. Hollis uses her research and practical experience to effect real change in the world that often benefits the most vulnerable." Hollis's efforts align with Morgan State core values of excellence, integrity, respect, diversity, innovation, and leadership. Therefore, she is a recent awardee of the Dr. Iva G Jones award, the highest award bestowed on faculty at Morgan State University for research, teaching, services, and character.
---
---
Rutgers University African American Alliance Hall of Fame- Class of 2020 
As a Rutgers College graduate, former Rutgers administrator, and now social justice educational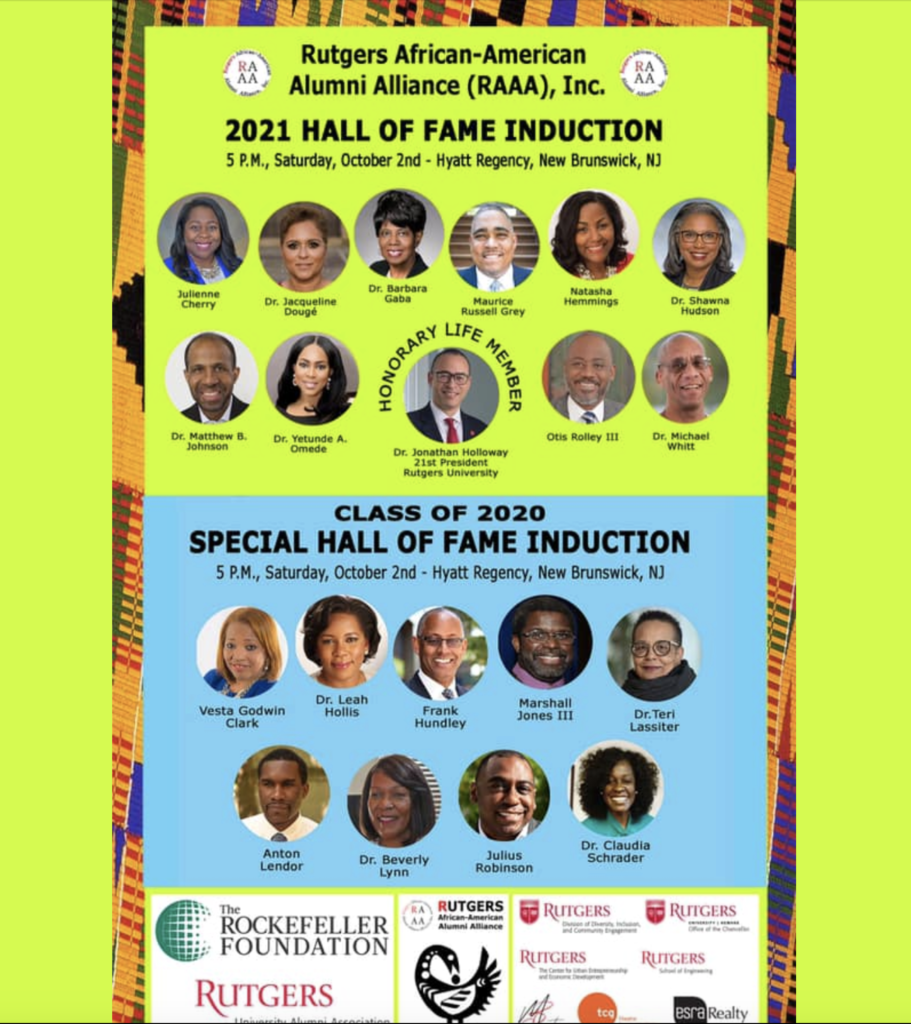 researcher, Dr. Leah P. Hollis was inducted into the Rutgers African American Alliance Hall of Fame. She attended Rutgers as an English major and Africana Studies major. She also served as the director of the Learning Resource Center, Rutgers-Newark, the director of Student Academic Support Services for Athletics, and as a dean of academic advising and internships at Livingston College.
The RAAA hosted a very classy event at the Hyatt Regency in New Brunswick, New Jersey, under the leadership of Kendall Hall. Other inductees included Dr. Beverly Lynn, Julian roins, Dr. Claudia Schrader, Dr. Yetunde Omede, Dr. Mattew Johnson, and the 21st president of Rutgers University, Dr. Jonothan Holloway.
Check out Dr. Hollis's induction remarks.  Rutgers Hall of Fame Induction Video
---
2022 Alumni Award: Iva G Jones Faculty Award- Morgan State University
This award is bestowed on a faculty member each year for research, services, teaching, and character. It is the most distinguished award any Morgan faculty member can receive from the university,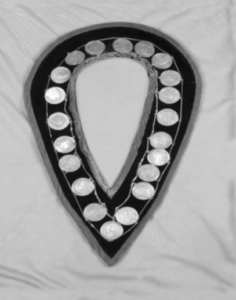 Some colleagues and community friends of the late Dr. Iva Gwendolyn Jones, Professor Emerita of the Morgan State University Department of English, honored her as a scholar, leader, and teacher, by extending as a gift to Morgan State University the Dr. Iva G. Jones Medallion Emblem, which is the conception of the late Assistant Professor Emeritus Samuel L. Green, who was one of the two co-designers of the symbol. The second co-designer, and medallion silversmith, was retired Associate Professor Kenneth Royster.
The Emblem fabric approximates in width the border of the master's hood, is velvet, and employs the University colors — blue and orange. The detachable chain, which surmounts the emblem and helps to drape the wearer's front and shoulders, bears silver mounts that hold the medallions in suspension. Appraisers have assessed each silver medallion at more than ten times the value of the United States silver dollar, which the medallions resemble. The twenty-one (21) emblem medallions — which the Philadelphia Mint created exclusively for the Negro Commemorative Society (Membership Number 1043) — display the images of African-American notables such as Crispus Attucks, Benjamin Banneker, Henry O. Tanner, Lorraine Hansberry, Mary Church Terrell, Alaine Locke, and Ralph Bunche.
---
AERA Social Justice in Teaching Award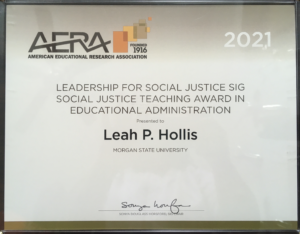 For her original course, Community College Social Justice, Dr. Hollis earned the AERA Social Justice in teaching award.  Her class considers social justice issues beyond race but considers ableism, immigration discrimination, workplace bullying, and class as issues that interfere with people's self-determination.
Richland native Leah P. Hollis brought a simple message to Johnstown Unit of the NAACP's annual Freedom Fund Banquet Saturday.  "Save me a seat," Hollis said before the dinner at Johnstown Holiday Inn – Downtown.  The concept is a simple one, and commonly used when meeting friends or gathering with families.
---
---
Two-Time Freedom Fund Banquet Keynote Speaker. SAVE ME A SEAT. NAACP speaker Hollis, tells Johnstown gathering.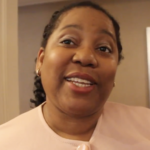 As a Rutgers College graduate, former Rutgers administrator, and now social justice educational researcher, Dr. Leah P. Hollis was inducted into the Rutgers African American Alliance Hall of Fame.
In the social justice area, however, seats are not always easy to find.  "The 'seat' in civil rights has been a point of resistance," Hollis said. "I want a seat at the lunch counter. I want a seat in the orchestra. I want a seat in first class.
"So tonight's message … reflects on how people fought for us to have a seat here and how we need to continue to advocate for people coming up behind us and make sure they have a seat."   Check out her interview with the Johnstown Tribune-Democrat.
---
---
Cambria County Sports Hall of Fame Inductee
Played on two Richland High School girls volleyball state championship squads under coach Linda Renzi, who is a member of the Cambria County Sports Hall of Fame.
Earned an NCAA Division I scholarship to Rutgers University, where she started in all 106 of her team's games during her freshman season.
Had 37 solo blocks, fifth best all-time on Rutgers' career list (record still intact in 2022).
Recognized as a scholar-athlete by Collegian Magazine and featured in Black Collegian Magazine.
Named as an academic advisor and served as a liaison to the University of Pittsburgh athletic department
Became the assistant director of student-athlete support services at Northeastern University in Boston
Was an NCAA Peer Reviewer
Served on the executive board of the National Association of Academic Advisors for Athletes (N4A).
Led N4A team that rewrote N4A's organization's national handbook.
A presidential appointment to the Director of Academic Support Services for Student Athletes at Rutgers